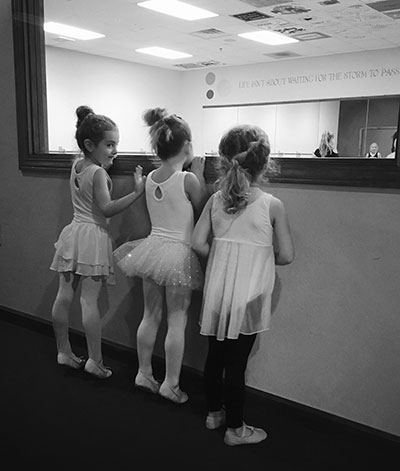 Class Descriptions
3-4 yr old Combo Class
This is a combination class introducing the young dancer to the grace of ballet and the rhythms and sounds of tap.
Ballet (I, II, III, IV)
This class will focus on exercises, techniques, and steps of classical ballet with an emphasis on terminology and correct body alignment while developing an aesthetic awareness of the art of classical ballet. Each class will include a warm-up at the barre along with center floor work and combinations.*
Lyrical 
This class is a combination of ballet and jazz. Lyrical is a very expressive type of dance. Dancers use emotion and passion to tell a story while dancing to the music. Lyrical uses techniques from ballet while at the same time showcasing a strong interpretation of  the music selection as in jazz. *
Pointe
Pointe is a classical, upper-level style of ballet dancing. To dance "en pointe" refers to supporting body weight on fully extended feet, on the tip of the toes. Pointe work is performed wearing pointe shoes, which allows the dancer proper structural positioning of a fully vertical foot. This class will focus on more advanced technique and terminology. To dance this style is typically the goal of a serious ballet student and enrollment is granted upon permission of the instructor.
Tap (I, II, III, IV)
Tap sharpens reflexes, and improves memory skills and coordination. Students will establish fundamental tap movements and vocabulary while working on basic rhythms and steps that will progress into fun and lively dance combinations. Students will also work to develop musicality, timing, balance and quick weight shift, all important elements of tap dance.*
Jazz (I, II, III, IV)
Rooted in the rhythm of jazz music, jazz dance is a true American art form. Classes will include a warm-up that will develop strength, flexibility and coordination as well as dance technique that is specific to jazz dance. Each class will also include dynamic choreography set to popular music and will encourage individual expression and the development of personal style.*
Hip Hop (I, II, III, IV) 
A high-energy dance form that uses the latest sounds in R&B and pop music together with movements influenced by some of today's hottest video choreographers. Hip hop encompasses movement that has elements of popping, locking, and breaking as well as freestyle movement to give students the opportunity to develop their own sense of style.*
Pom (I, II, III, IV)
Pom employs sharp, precise movements to usually a fast tempo style of music.  Pom emphasizes uniformity and utilization of pom pons for maximum visual effect. In class each week, the dancers work on jumps, leaps, turns, and arm motions.*
Kickline
Kickline encompasses a number of dance styles including pom, lyrical, jazz, high-kick and hip-hop. The dancers may use pom pons, ribbons and other props for energy and effect. It may look fresh and funky, but this style actually has its roots in ballet and other more traditional forms of dance. 
Musical Theater
This class is designed to learn dance and acting combined in theatrical performances. Students will learn Broadway style jazz and study various musicals and movement while playing a character/acting out a storyline.
Contemporary
Contemporary dance is an expressive style that combines elements to several genres including ballet, jazz, lyrical and modern. In contemporary, dancers strive to connect the mind and body through fluid movements. This style allows the freedom of expression, both mentally and physically, to relay information to the audience.
*Advancement is based on correct placement, skill mastery, and instructor recommendation, not by age. This means that all classes have a variety of age levels. Students must master the skills in a level before they are able to advance.